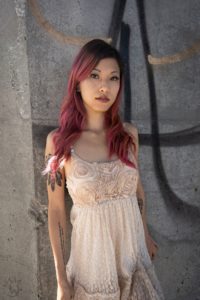 When we first met our instructor Kelsey, we were blown away when she switched from a beautiful piano sonata to metal growls in her interview. Needless to say, she was hired.
Since then, we hosted a few info sessions about metal singing here at the studio, and the response was amazing! Our first session was in November 2022, the night of a huge snowstorm in Vancouver. Despite the weather, we had 16 people show to learn about our metal plans. A second night in December was just as popular. We knew we were onto something: there is an untapped demand for metal lessons in Vancouver. We started our first session of Metal Choir in January 2023, and it's been going strong ever since.
Hugo joined our team later, showing off his guitar playing skills with an incredible rendition (nearly note-for-note) of the Fearless Flyers funk-tastic song Introducing the Fearless Flyers. It was incredible, and then we discovered Hugo's other passion lies in hard rock and heavy metal guitar playing; having spent a number of years as lead guitar player in a metal band from Mexico! We are so excited to offer Hugo's first guitar clinic in 2023 "Shred Your Heart Out" a heavy metal guitar playing extravaganza. More details below.
We now have a half dozen offerings of metal madness to suit all abilities and commitment levels.
Private Voice Lessons
Start your metal journey with some private voice lessons! From newbs to Rob Halfords, we have a teacher for you!
Private Guitar Lessons
Start or continue your metal journey with private guitar or bass guitar lessons. From the absolute beginner to the axe-weilding advanced players, Hugo will build your chops in private one-on-one lessons.
Metal Choir
Metal Choir is the beast that started it all! It's our weekly group class of metal tunes. It all started with Veronica, who wanted to sing in a choir but only wanted to do Metal tunes. And we were happy to oblige. Our first session worked on songs by Metallica, System of a Down, Nightwish and Spiritbox. In the summer we added a tune by Devin Townsend. When we have enough tunes, we'll be looking at performance opportunities, opening for local metal shows and going from there.
Metal Singing Drop-In
Our metal singing drop-in is a great way to dip your toe into the world of metal singing. It's basically group karaoke of the best metal and rock tunes. We do an online poll before each night and sing the songs that get the most votes. We also have a "Diva" portion of the night where individuals get to show off a bit. And at the end we do "The Weird Part of Night". The drop-ins usually run on the second Friday of the month.
Heavy Metal Guitar Clinics
Guitar instructor Hugo has the lowdown on some of the best guitar practices to ward off the devil with your guitar playing. Clinics happen once a quarter (about 4 times per year).
Extreme Vocal Clinics
Our newest idea to get people into metal singing is to have some Extreme Vocal Clinics! Each clinic will focus on one aspect of Extreme Vocals, such as growling. To avoid strain, they will be limited to just a couple hours per session, so they will make a great introductory experience to the metal world!
Extreme Vocal Clinics are in the planning stage. Contact us to be added to the interested folks list.
Embark on your journey today!
If you have any questions about our services, we encourage you to contact us. We love to talk about music and can't wait to hear from you.
If you are ready to take the plunge and start your journey, you can register today! We will follow up with you to arrange a placement lesson.