Pleasant Mountain Music is conveniently located in the South Granville district of Vancouver BC. It's very easy to find us if you are travelling by car, bicycle or transit. There is a parking lot in the back and an access pad for self entry on the front and back doors.
Driving Directions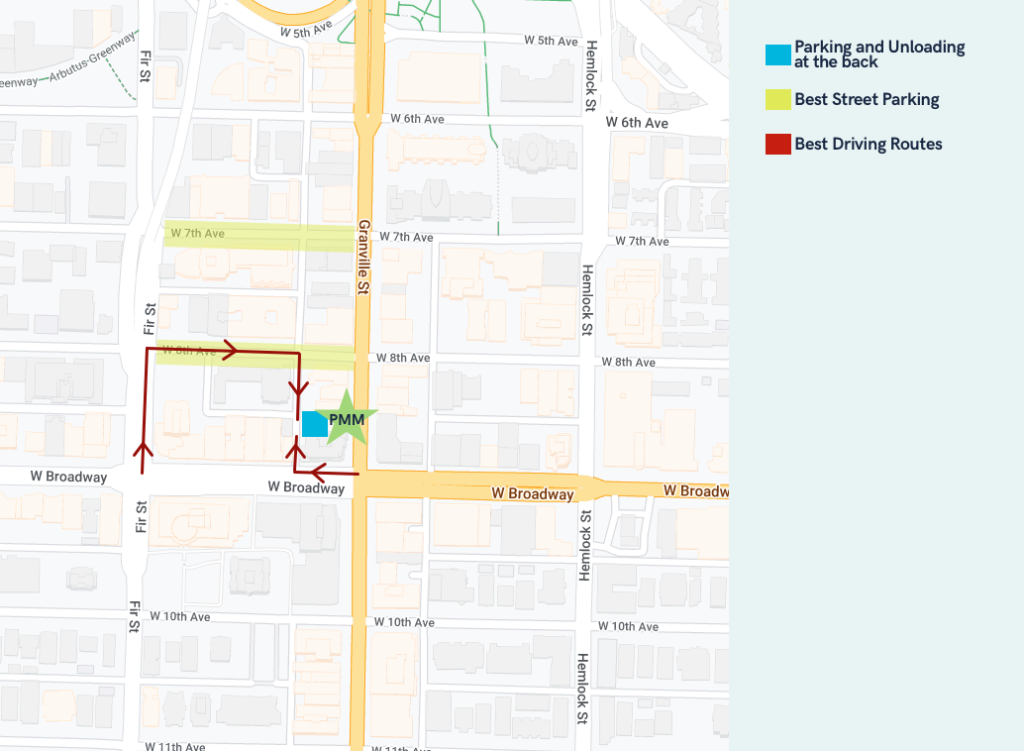 We are located on Granville Street, which is technically a highway. You can't park in front from 3PM – 6PM on weekdays. The best driving option for drop off, pick up, and parking is down our back alley. If you are heading in from the west, you can't turn left to access the back alley. It's best to go down Fir and loop around. There is also reasonably priced metered parking on 7th and 8th. We have a parking lot, but we share it with three other businesses and can't guarantee there will be a spot for you. If you get a spot, you must grab a parking pass from the bottom of the stairs, or you may get a ticket.
Bicycling Directions
7th and 10th are the best East-West connectors. They also have lights to cross Granville Street. We have some amazing bike racks in our back parking lot. It's worth the trip just to use them, so consider bike riding for maximum awesomeness.
Transit Directions
We are very conveniently located along the 99 B-Line bus route. If you can get to Commercial and Broadway or City Hall Skytrain stations, the B-Line will get you the rest of the way. Coming from downtown, the 4, 7, 10, 14, or 16 busses will get you close. Some of them turn after the bridge, but it's just a few blocks up the hill from there. Right across the street from us is the location of the new Skytrain station but that won't be open until 2024
About South Granville
South Granville is a great shopping district in Vancouver! If you are waiting for your kids to have their lesson, or just wanting to pick up some things for yourself, there are lots of options. It's most known for being the Art Gallery District, you can pick up any kind of art to decorate you home. South of Broadway there are lots of boutique clothing stores, most of them are geared towards ladies fashion, but there are lots of options for anyone else.
Food Options
There are a lot of great food options in the area. For a quick bite, we love Wicked Cafe, Bamboo World Kitchen, and Kathy's Sandwich Shop. For a proper sit down meal, Mazahr Lebanese Kitchen is our top pick, especially for non-meat eaters. Heirloom Vegetarian, The Marquis Bar and Grill, Bin 4, and Caffe Barney are also some top picks. And of course, no neighbourhood in Vancouver would be complete without a top notch sushi joint, and we always go to SushiVan. For a quick caffeine rush, Trees and Blenz are both under a block away. Meinharts is a great choice for some fancy groceries, but the Shoppers Drug Mart also has most of the essentials. There is a Timmy's, Starbucks, and McDonalds nearby, if it's just one of those days.