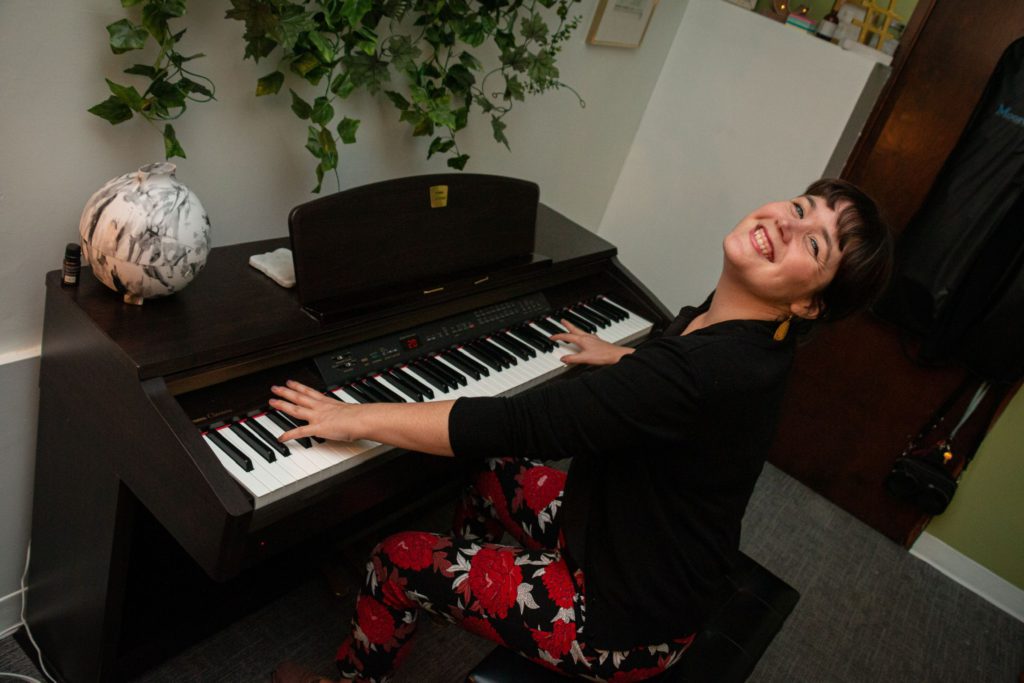 Teacher Sarah is a multi-instrumentalist, who began her musical journey on piano and trumpet at age of 11. Since then she's played in concert bands on trumpet and French Horn, jazz bands on trumpet and Flugel horn, small ensembles (The Trumpet Project) on piano, hand bells and trumpet, and rock/ska bands (various instruments). She is currently an ARCT Pedagogy Diploma candidate, a certification for music education, through the Royal Conservatory of Music.
Students of any age looking for their very first exposure to one-on-one music lessons are welcome to start out with Sarah; she's patient, perseverant, and can provide the answer to all the "how do I/how will my child learn this instrument?". She is also a skilled Conservatory pianist, and will help any interested students in completing exams and festivals on either piano or trumpet. She's already had a half-dozen students successfully sit Level 1 through Level 8 exams, and continues to look forward to supporting the next cohort of exam-ready students. 

Adult students have also found a home in private one-on-one lessons with Sarah. She's able to tap into the adult learning experience from her own background as an adult learner: the majority of her RCM Piano Certification actually occurred in her 20s. Though she BEGAN music at the age of 11, she didn't CONTINUE to pursue certification until age 21. So this is a very useful experience to draw upon for any adults that come her way. 
Finally, Sarah is a great lover of music, and hopes to instil a sense of commitment to and enjoyment during lessons as well as encourage self-expression in her students.
Testimonials
Sarah is an amazing piano teacher. Our 9yo loves his lessons, and he's always eager to practice for the next one so he can show her his songs. Highly recommended!
I have been a student of Sarah's for the past three years and she has made my piano learning experience so fun! She makes every class a safe learning environment where I'm not afraid to make mistakes. I get to choose what kind of music I get to play and it helps me stay motivated to keep practicing.
PMM had been recommended to us as a great place to introduce our 9yr old son to piano and I would like to pass on this recommendation to anyone looking for music lessons. Sarah is our teacher and she's very skilled, has great energy, is supportive, patient and makes learning super fun!!
Embark on your journey today!
If you have any questions about our services, we encourage you to contact us. We love to talk about music and can't wait to hear from you.
If you are ready to take the plunge and start your journey, you can register today! We will follow up with you to arrange a placement lesson.