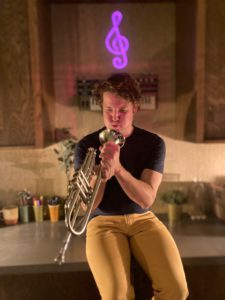 I moved to Vancouver in 2000 to pursue acting and music. Fresh out of acting school, my first professional audition landed me 4 episodes of an MTV show called The Sausage Factory. Two of the leads of that show went on to be famous, but, alas, it was the peak of my television career. I was in single episodes of two other shows, John Doe and My Guide to Becoming a Rock Star. I was also in a commercial for a German bank called Volksbank, but I never got to see it. As I aged out of the "teenage skateboarder with dreads" category, the acting dried up. I still scratch my acting itch by performing in semi-pro musicals, when the opportunity arrises.
I have also played music steadily since I was around 14. I've spent my whole time in Vancouver playing in various bands, recording albums and going on tours. Some of my longest running bands were The Elixxxirs, The Oh Wells, Pernell Reichert and The Hard Drinkers, and The Maneuver. Through these bands I have explored many genres including Rock, Punk, Funk, Ska, Reggae, Rockabilly, Psychobilly, Pop, Indie, Twee Pop, Country, Alt Country, Blues, Bluegrass and just a taste of Metal. My next project will be Dance-Metal, if I can pull it off.
Sarah and I go back to the very early days when we had competing ska bands that played shows together. After a brief stint living in England, which she hates to talk about, Sarah found herself back in Canada and needing a band. She joined The Maneuver, my party-funk, dance-rock band, on Keyboards and Trumpet.
In a cruel twist of fate, the only time The Maneuver went on tour, two nights on the Sunshine Coast, Sarah was already booked up for a family wedding. Our drummer, a longtime Chersea fanboy, had been trying to get us a gig with Chersea for a long time, and having her fill in for the tour was a pretty good start.
As we all got to know each other, we realized that both Sarah and Chersea had full teaching schedules and dreams of opening a studio. I had a pretty healthy bank account from being a remote software developer during the pandemic and a desire to quit my job.
I've been a lifelong student and performer of music. I'm currently PMM's top student, taking voice lessons from Chersea, piano lessons from Sarah, and I'm also Artistic Director and Tenor in the Metal Choir. To scratch my performance itch, I also host two monthly events at the studio. Our Heavy Metal Drop-In is basically a group karaoke for metal heads, and I got the old band together for our Sing-A-Long Nights. I'm also a great host for private karaoke parties.
My long-term studio goal is to launch some kind of ongoing improvised musical, and to start filming sketch comedy at the space.
Here's a Bunch of Videos I'm In
And Here's Some Music I Made
Embark on your journey today!
If you have any questions about our services, we encourage you to contact us. We love to talk about music and can't wait to hear from you.
If you are ready to take the plunge and start your journey, you can register today! We will follow up with you to arrange a placement lesson.